Aloha!! 2014 OCEAN SCIENCES MEETING
On February 22 we travelled to Hawaii to present our work on long distance electron transport at the Ocean Science Meeting 2014. Three of the LDET members were given a poster presentation on the following topics: "Carbon metabolisms linked to LDET", "LDET vs Beggiatoa" and "Enhanced alkalinity by bioturbation and LDET". Our posters provoked interesting questions and fruitful discussions. The afternoon poster session was without a doubt a great opportunity to share our latest findings with scientist from around the world.
CARBON METABOLISM IN HYPOXIC SEDIMENTS SHOWING LONG-RANGE MICROBIAL ELECTRON TRANSPORT BY CABLE BACTERIA
Recently, a novel mechanism of sedimentary sulphide oxidation has been discovered, involving long filamentous Desulfobulbus- like bacteria that are capable of transporting electrons over centimetre-long distances. To elucidate the carbon metabolism of these "cable bacteria", we studied intact sediments and induced their development in lab incubations from a seasonally hypoxic marine lake. The presence of cable bacteria was confirmed via microelectrode profiling and fluorescent in situ hybridization. Alongside, the key players of the microbial community were characterized by cDNA clone libraries. To determine the carbon source for growth, 13C-labeled propionate and bicarbonate uptake was traced in phospholipid fatty acid biomarkers. Additionally, substrate uptake of individual filaments was confirmed visually and further quantified by NanoSIMS. Our results show high rates of synchronous heterotrophy and autotrophy down to centimeters depth. This suggests that the complete oxidation of sulphide is performed by a microbial consortium, consisting of heterotrophic cable bacteria and autotrophic ?- and ?-proteobacteria. This electrogenic metabolism enables high dark primary production and efficient sulphide oxidation in hypoxic sediments.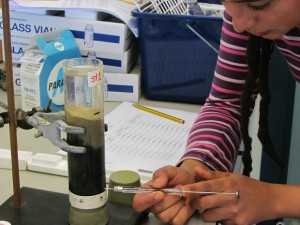 MICROBIAL SULPHIDE OXIDATION IN SEASONALLY HYPOXIC COASTAL SEDIMENTS: COMPETITION BETWEEN ELECTROGENIC FILAMENTOUS BACTERIA AND BEGGIATOA
The surface sediments of the seasonally hypoxic Marine Lake Grevelingen (The Netherlands) show high sulfate reduction and strong accumulation of free H2S. Monthly sampling campaigns over 2012 showed that two different groups of sulfur oxidizing bacteria, long filamentous Desulfobulbus-like bacteria (DSB) and Beggiatoa, were competing for the same geochemical niche. Both groups use a very different strategy for harvesting sulfide in deeper sediment layers: DSB are capable of centimeter-scale electron transport, while Beggiatoa use motility and intracellular nitrate storage. Microsensor profiling (O2, pH and H2S) revealed which microbial sulfide oxidation pathway was dominant at any given time, while FISH tagging (DSB) and microscopic counting (Beggiatoa) was used to quantify the abundance of the two bacteria. Our data show that both modes of microbial sulfide oxidation follow a seasonal succession, where Beggiatoa are dominant in autumn after summer hypoxia, while DSB become dominant throughout late winter and spring. The deep removal of sulfide by both DSB and Beggiatoa prevents the escape of free H2S to the bottom water and detoxifies the sediment, which may facilitate the recolonization by fauna.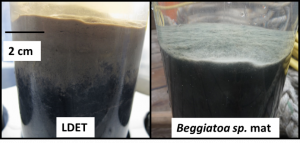 ENHANCED ALKALINITY PRODUCTION IN INTERTIDAL SANDS FROM THE OOSTERSCHELDE (THE NETHERLANDS) INDUCED BY THE LUGWORM ARENICOLA MARINA
Measurements of porewater profiles and sediment-water fluxes of oxygen, nutrients, pH, calcium, alkalinity, and sulfide in sediment core incubations were used to examine the influence of bioturbation and bioirrigation by the deep-burrowing polychaete Arenicola marina on the rates and sources of benthic alkalinity generation in intertidal sandflats in the Oosterschelde (Netherlands) in June and November 2011. Stronger organic matter remineralization, shallower O2 penetration, and greater sediment-water solute fluxes were observed in summer than in fall. Lugworm activity enhanced porewater exchange, aerobic respiration, nutrient regeneration, alkalinity release, and iron cycling. The effects of lugworm activity on benthic solute fluxes were similar but more pronounced in summer than in fall. In fall, alkalinity release can be entirely explained by carbonate dissolution. Lugworm activity stimulated the production of metabolic acidity in surface sediments by the reoxidation of reduced metabolites, which in turn enhances metabolic CaCO3 dissolution efficiency. Microbial long distance electron transport (LDET) developed in summer in the absence of lugworms. Alkalinity production by net carbonate dissolution was likely supplemented by anaerobic respiration and LDET in summer.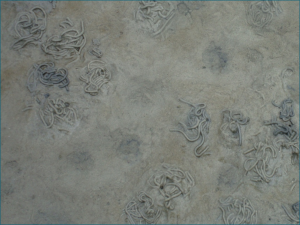 Given the long week of talks on all types of ocean related subjects, we decided it was necessary to relax our brains a bit and do some site-seeing of Oahu, Hawaii, and Kauai!